Cancer Burden in Bangladesh
An Estimated Cancer Load is approximately 1.2 million, 250,000 New Cancer Cases are diagnosed each year approximately and 150,000 deaths due to cancer occur each year.

Present Scope of Cancer treatment in Bangladesh
Facilities and resources available for detection and treatment of cancer are indeed very limited in Bangladesh. Resources available at present can cater the need of around 30,000 - 35,000 cancer patients in a year. The absence of multi-disciplinary approach can be identified as a major handicap in the effective treatment of cancer.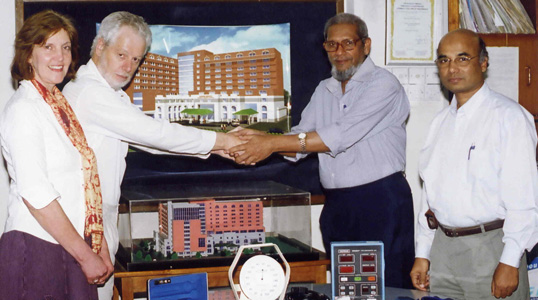 Quick Cancer Facts

Cancer is one of the leading causes of death world wide.

As the population has grown, so the number of adult cancer deaths have increased steadily, and this increase in burden is projected to continue at least for next two decades. The ageing of the population – reflected in longer life expectancy – will also have an increasing by telling effect by increase of cancer burdens.

From a total of 58 million deaths worldwide in 2005, cancer accounted for 7.6 million (or 13%) of all deaths. But unfortunately, more than 70% of all cancer deaths in 2005 occurred in low and middle-income countries.

Deaths from cancer in the world are projected to continue rising, with an estimated 9 million people dying from cancer in 2015 and 11.4 million dying in 2030.

Donations are Tax Exempted
The donation upto Tk 5 lacs (USD 7142) is tax exempt in Bangladesh. It is also incorporated in the USA and enjoys a tax exempt status under section 501 (c) (3) of the internal Revenue Code, USA.

For Donations Abroad Please Contact

In U.K.
Dhaka Ahsania Mission is a registered Charity in UK (Charity Number 1053786). If you are Income Tax payer, we can claim GiftAid on your donation, which will effectively increase your donation to us by 28p in the pound (£). Accordingly, you may kindly send a cheque payable to Dhaka Ahsania Mission Cancer Hospital Fund to the following address:

Mrs. Zina Fear
Fund Raising Adviser
Dhaka Ahsania Mission UK,
12, Camplins, Clevedon
Somerset, BS21 5EY, UK
Tel: 01404-813996;
Email:
ZinaFear@aol.com
, ZFear@damuk.org
Alternatively, you may kindly send your donation to the following bank account in UK :
Alliance & Leicester Commercial Bank plc.
BBAM, Bridle Road, Bootle,
Merseyside, GIR OAA., U.K.
Account Name: Dhaka Ahsania Mission Cancer Hospital Fund
Sort Code: 72 00 05
Account Number: 63516186
In USA
Dhaka Ahsania Mission also is registered as a Charity in USA . Please send your checks payable to Dhaka Ahsania Mission (Tax Deductible, 501C3) to the following representatives in USA :
Mrs. Nayeema Khan
President, Dhaka Ahsania Mission, USA Inc.
58 Third Avenue, Garden City
New York 11040 ,USA
Phone: 917-821-0514
Email: nayeemakhankt@gmil.com

Muhammad A. Kabir (Jasir)
Secretary
Dhaka Ahsania Mission, USA Inc.
Email: makjasir@yahoo.com

In Australia
You may please send your donation to the following representative of DAM in Australia :

Dr. M. Ayaz Chowdhury
8, Bracken Fell Close
Castle Hill, New South Wales
NSW 2154, Australia
Phone: 61-298069591
Cell:    61-414372485
Email: ayaz.chowdhury@hotmail.com


In Canada

Ms. Zohra Ferdousy
Email: zohra.ferdousy@gmail.com

Appeal for Donation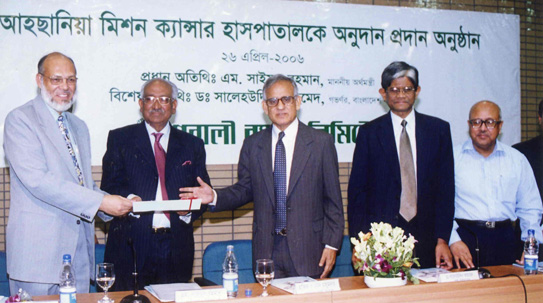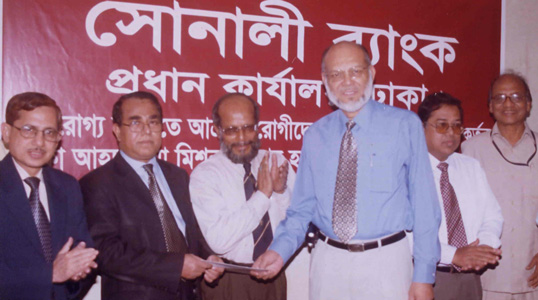 Besides the support of our Government, corporate sector has also come forward to assist this initiative. Dutch Bangla Bank has contributed Tk 19.00 crore and Pubali Bank Ltd has given 10.00 crore.  A number of other government and private banks as well as corporate houses have contributed generously.

In the above context, we take this opportunity to invite all to kindly consider raising fund to help the ongoing construction work for the cancer hospital.

To inform us about your interest for donation please click here. Also you can send donations in account pay cheque in the name of Ahsania Mission Cancer Hospital Fund.

In Bangladesh:

Agrani Bank
Dhanmondi Branch
Dhanmondi, Dhaka-1209
Bangladesh
A/C Name: Ahsania Mission Cancer Hospital Fund
A/C No. : 0200000965078

Donations can also be sent to Ahsania Mission Cancer Hospital, Dhaka, Bangladesh through

Sonali Exchange, New York
or any other
Sonali Exchange Booth in U.S.A.

Sonali Exchange will remit your donation to our following account:
Name of the Account: Ahsania Mission Cancer Hospital Fund
Saving Account No. 34067185
Wage Earners Corporate Branch, 62, Dilkusha C/A, Dhaka, Bangladesh.